People are naturally drawn to water and water features like fountains, waterfalls, and pools. Water is an essential part of human life, and studies show that it relieves stress. Just the sound of water can help lower blood pressure.
It's no wonder then that many commercial landscaping projects incorporate outdoor water features into the landscape design. Water enhances any commercial landscape project, drawing in customers as well as improving the work experience for employees. Even if you don't have a lot of space to work with, a small water feature can make a big difference, especially during a hot Atlanta summer! Continue reading to learn more about the benefits of outdoor water features for commercial landscaping as well as a few ideas that you can incorporate into your property. If you'd like to learn more about what our landscaping company can do for you, visit our Outdoor Water Features page, our Commercial Landscaping page, or simply contact  Michaelangelo's Sustainable Landscape and Design Group.
Benefits of Outdoor Water Features
Along with the psychological benefits of water features (calming, stress-reducing), commercial water features also support your business. Just like any commercial landscaping project, they are a way to create a great first impression with potential customers and employees. They also add interest to your property and can be a great focal point to your landscaping.
Water features are also a great way to provide sound and movement to areas that would otherwise be quiet. This can create a great space for meetings or employee breaks. If you care about the environment and sustainability, water features are also a good way to attract native wildlife. You can draw in songbirds and other wildlife to your property. Outdoor water features can also have living elements, like a koi pond, which also gives another level of intrigue to your landscape design. 
If you're looking for truly unique commercial landscaping, adding a water feature is the way to go. When you hire our team for landscaping services, we'll create a water feature specifically designed for your space. That not only includes the way the feature moves through your property, but also the plantings that integrated it into your space.
Lastly, great landscaping should be easy to maintain. While outdoor water features look impressive, they also require very little maintenance. Simple water fountains, cascading waterfalls, and other pond-less water features require the least amount of maintenance since the water is always moving. A pond does run the risk of bacteria growth, but a well-designed outdoor water feature should have proper circulation built-in. If you're concerned about maintaining your commercial landscaping, you can hire our landscaping company for regular or seasonal maintenance. We'll keep everything, including the water, in tip-top shape. We also offer lawn care services for both commercial properties and customers looking for residential landscaping.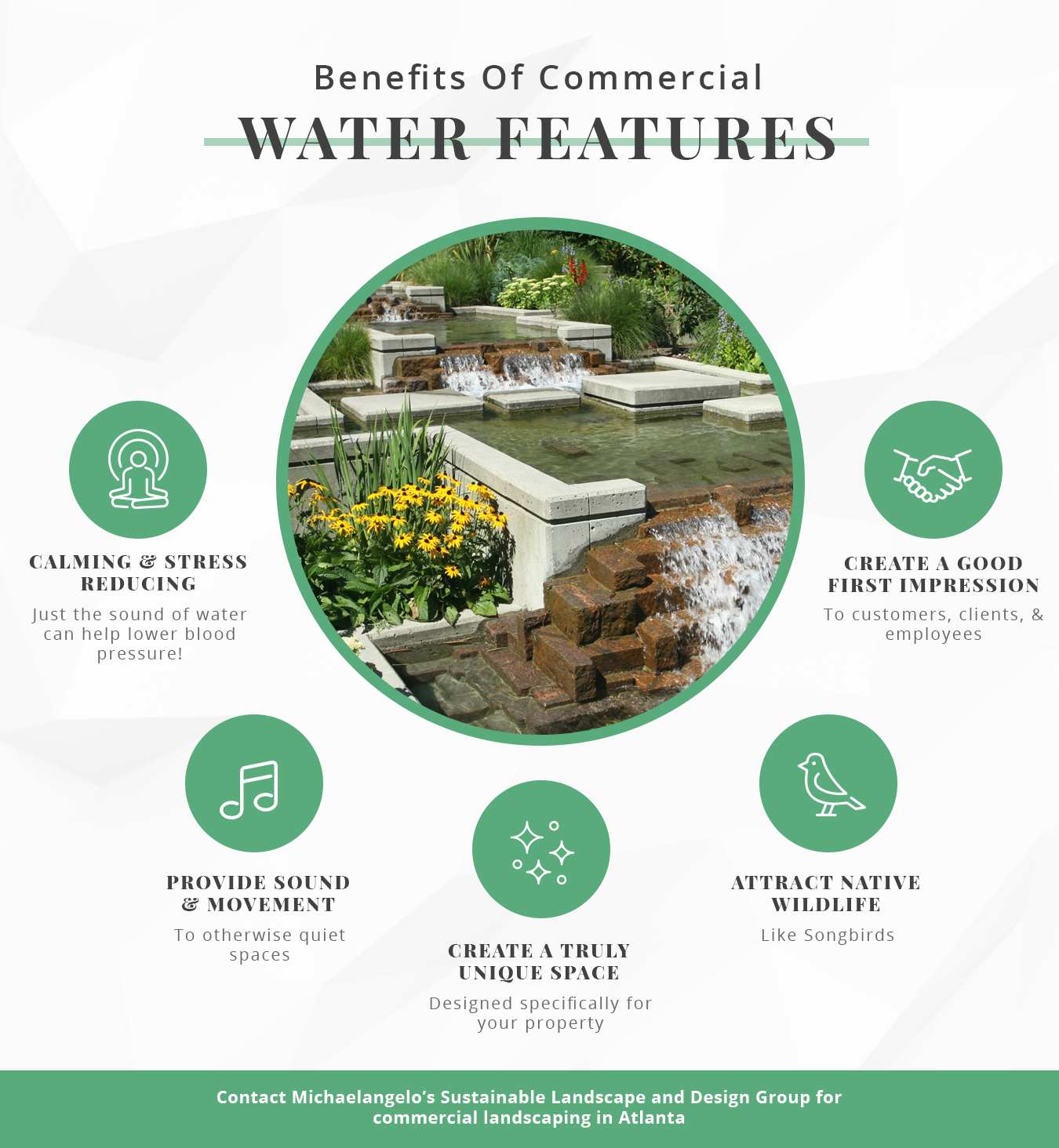 Commercial Landscaping Water Features Ideas
Large Ponds
Do you have an existing pond that's looking a little lack-luster? Without the proper care or landscape design, ponds can become scummy or plagued with debris build-up. A water feature shouldn't become an eyesore. Instead, our landscaping company can turn it into a showcase water feature by improving circulation and filtration. Want to make the pond even more impressive? Add cascading waterfalls or a fountain. We can also incorporate plantings around the pond creating a stunning, integrated, and clear pond in your commercial building.
Waterfalls And Streams
Do you host meetings and conferences? Have regular client visits? Want to give your employees a relaxing area to eat lunch when the weather is nice? A waterfall can be combined with streams to take up a large expanse of landscaping, allowing waterfalls to converge or mixing waterfalls of different heights and widths. You can even add underwater lighting for a dramatic nighttime look.
Decorative Water Features
Don't have much space or have a smaller landscaping budget? Try a decorative water feature! Here at Michaelangelo's Sustainable Landscape and Design Group, we think of landscaping as something that you can continually add to, growing along with your business. If you're new to commercial landscaping, a small decorative outdoor water feature like an outdoor fountain, water-wall spillway, or a foundation topper can add both the calming sound of water and interest to your unique space.
Interactive Water Feature
If you're a museum, school, or other educational institution, you may be interested in an interactive outdoor water feature. They're a great way to help children learn about sustainability and how to be environmentally responsible. Outdoor classrooms are becoming more and more popular, and they're a unique addition to any natural learning space.
Commercial Rainwater Harvesting
If your business is concerned about the environment and wants to invest in a big project, a commercial rainwater harvesting water feature may be right for you! Water features that harvest rainwater are self-sustaining and they can also be built with native plants to create a unique ecosystem. Not only are they aesthetically pleasing, but they also help manage rainwater run-off from your property in a unique and beautiful way. If you're interested in a sustainable water feature, contact our Atlanta landscaping company today.
Michaelangelo's Sustainable Landscape and Design Group
Our Atlanta landscaping company is proud to provide our Atlanta community with the very best in landscape design, including commercial landscaping services. We provide a variety of professional landscaping services including turf care, hardscapes, irrigation, and landscape lighting. We serve customers in Alpharetta, Marietta, Roswell, and everywhere in between. Contact us today for a free estimate on your lawn care!