How to Design Your Front Yard Landscape: 7 Front Yard Landscaping Ideas
Your front yard is the first thing people see, whether you own a home or a physical business location. You may already know that your landscaping raises curb appeal, and property value, and just makes you feel a greater sense of pride around your home. And from the commercial property standpoint, landscaping is essential as well. The best way to draw attention to your building is to invest in the front yard landscape
If it's your first time considering this element, it can be overwhelming. But we're here to help you gain some confidence and clarity on your next steps to bringing your dream front yard to life.
Today, we'll guide you through the ins and outs of how to design your front yard landscape - sharing ideas you can use for inspiration. We'll touch on the practicalities of a front yard investment, the benefits and drawbacks, landscaping ideas, and everything else you need to know about the process.
If you're interested in landscape services in Alpharetta, Michelangelo's is the best choice for landscaping services. We can handle everything for you from initial concept to installation to maintenance after the fact - so you can kick back, relax, and enjoy a stunning yard that the neighbors envy.
For now, though, let's touch on the benefits of investing in front-yard landscaping.
Why Front Yard Landscaping is a Great Investment in Your Home
First, what is landscape design? As you know, it is an excellent investment for your home. It will bring a ton of value for the future, among other things, whether you want drought-tolerant front yard landscaping ideas or something more classically green. But what all will it do for you, exactly?
The most prominent benefits of front yard landscaping include:
Improved curb appeal

Better use of natural resources

Increased home value

Scares away burglars

Reflects your personality and way of life
It's a wonderful choice.
It's one thing to talk about front yard landscaping and another thing to do it. If you're contemplating whether you should take the DIY route or leverage professional help, keep reading - we'll help you compare and contrast your options.
Is Learning How to Design Your Front Yard Landscape Worth it?
Many want to learn how to design a front yard landscape and complete the process on their own. Is learning this process worth it? What should you expect?
Benefits of DIY Front Yard Landscaping
There is only one advantage of deciding to design your backyard landscape yourself. Cost savings. If you pick cheap plants and know what you're doing, you could save money. That's really the only benefit. And truthfully, you may end up paying more in the long run if you take this route. So - let's assess some drawbacks to doing it yourself.
Drawbacks of DIY Front Yard Landscaping
There are many drawbacks to performing DIY front yard landscaping. For one, most people lack knowledge of the basic elements of landscape design that make yards look good. It's also an investment of time and money, potentially leading to mistakes that cost more time and money. So much can go wrong.
If you're scared of the DIY route, you may consider professional landscape design. Is it worth it?
Investing in Professional Landscape Design is
Always
Worth It!
When learning how to design a front yard landscape, you may stumble across the option to hire a landscape designer. Although it might seem costly, it's always worth it. These individuals create quality plans, have the right tools for success, and have more experience than most people who want landscape design.
If you live in Georgia, you can trust Michaelangelo's for Alpharetta landscape design. We have over twenty years of experience in the field, and our professionals will complete the task with professionalism and ease. Our customer reviews will give you a sense of what you can expect when working with us - so take a look, see some of the gorgeous front yards we've brought to life, and reach out.
OR - if you do decide to take the DIY route, keep reading to discover how to design your front yard landscape.
How to Design Your Front Yard Landscape: Step-by-Step Guide to Getting Started
Wondering how to design a front yard landscape? We have the steps you need to complete the process with ease.
Gain Inspiration From Front Yards You Love
First, look up the front yards you have fallen in love with. That could mean pictures on the internet or snapshots from your neighborhood. Whether you're interested in a gorgeous garden fence or drought-tolerant landscape design ideas, it helps to know the direction you want to go.
You can also take bits and pieces from various landscapes, putting them together to create your ultimate vision. There are many routes when designing a front yard landscape. The tricky part is not just coming up with a vision - but creating one that works for your unique home, budget, and climate. So - let's talk about that next.
Develop Your Own Vision Based on Your Unique Home & Climate
Next, work on your vision to create a yard that works with your home and local climate. Select plants that will thrive - drought-resistant plants will work in dry air, and tropical plants thrive better in humidity. You should also consider the low and high temperatures you face throughout the year when selecting plants.
Another key element of creating a yard tailored to your needs is to determine how much maintenance you want to do. The more intricate the design, the more time you will spend caring for your yard. Of course, there is always full-service landscaping if you don't want to keep your plants alive. We can handle that for anyone in the Atlanta area - so you just get to enjoy a beautiful yard year after year without any of the backbreaking maintenance work.
Create a Balance of Aesthetics and Function
It's vital to have a balance of aesthetic items and functional pieces. Flowers and greenery are lovely, but balancing them with benches, fountains, and other usable items is critical to make your landscape perfect.
If you have too many plants, people won't have anywhere to go. If it's all functional items, it will look naked and ugly. Balance is critical when considering the best next steps for your front yard landscape.
Come Up With a Budget (Factoring in Installation)
Next, it's time to come up with a budget. Landscaping can quickly get out of hand, so it's best to know how much money you want to spend.
The cost of landscaping includes materials and the installation process. You may also need to pay someone to design it. Factor all items into your budget, then set a cap to simplify the selection process.
Reach Out to the Experts at Michaelangelo's
Finally, reach out to experts to get the job done. Landscape designers with experience will save you time and money. They will also ensure the final product looks good, employing the basic elements of design to bring everything together. If you're going to invest in landscape design, you might as well do it right the first time around - and that's where we can come in.
If you're interested in an expert for a front yard landscape, contact Michaelangelo's. We are the best in the Alpharetta area. Our landscape design cost will depend on items like the size of your yard, what you want, and how much work is necessary. Give us a quick call, and we will help determine the best action.
7 Front Yard Landscaping Ideas to Help You Gain Inspiration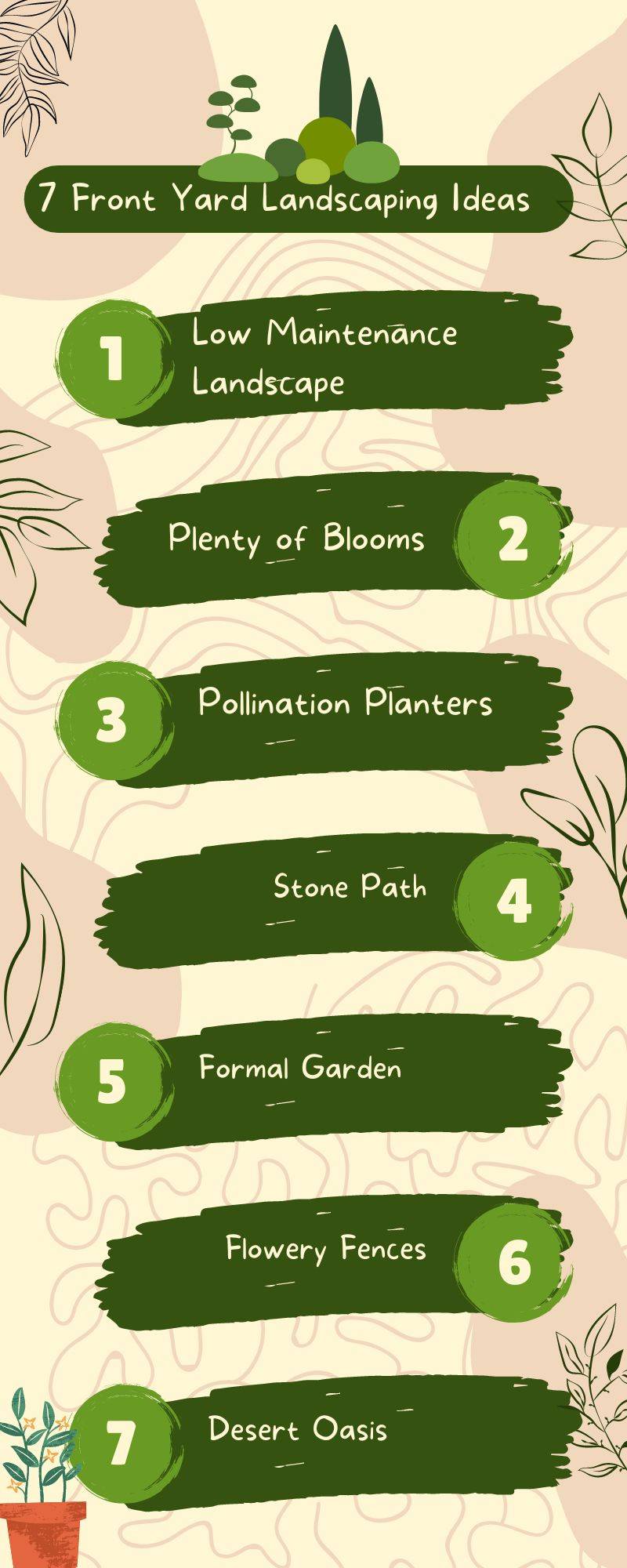 We have ideas for the front yard to help you gain inspiration, whether you want drought-tolerant front yard landscaping ideas or something more floral. These will help you decide the best look for your front area.
1. Low Maintenance Landscape
Most people have hectic lifestyles. If you're busy but want a front yard that looks good, a low-maintenance landscape is a great choice. These designs combine hardscaping and landscaping techniques for a yard that takes minimal work to keep in shape.
Sidewalks, rocky ground, and drought-tolerant plants are a few of the items that make up a low-maintenance landscape. With an expert hand, it will look like it requires more work than it does.
2. Plenty of Blooms
If you have a cozy house or business area, flowers are the ideal accent. They provide a feeling of freedom, an excellent addition to buildings with curves and asymmetrical lines. The colors and shapes of the florals can reflect your personality.
It takes an expert hand to determine where flowers should go in a yard. You can make the entire area floral or keep it down to a few beds as noticeable accent pieces.
3. Pollination Planters
There is nothing more fun than seeing your front yard alive with pollinators like bees and birds. To attract these animals, you can landscape your front yard with pollinator plants. The creatures will head to your yard, knowing you have what they need.
With a blend of colors and textures, a pollinator garden gives a carefree vibe to a home. You can have an entire yard of pollinator plants or a dedicated area by the biggest windows in your home.
4. Stone Path
A stone path is an excellent landscaping option for the front yard, though it's the hardscaping aspect of creation. This addition is an excellent compliment to any greenery and makes a perfect way for your guests to reach the front door.
The path can be anything from natural stone to symmetrical granite. There's even more to explore with accent plants.
5. Formal Garden
In the time of kings and queens, formal gardens were a common thing for a yard to hold. If you want to possess this air of regality in the modern age, add a formal garden to your front yard.
Clipped hedges and mirror-image planting are the key to this masterpiece. It takes a skilled eye to determine what plants best suit a high-class estate of any size.
6. Flowery Fences
Everyone dreams of that classic white picket fence. One of the coolest things you can do is incorporate this structure, then add flowers around it to make a unique front yard landscape addition. The flowers can work with your color aesthetic or even your mood.
Repetitive patterns in the flower planting bring this front yard look together. If you want a delicate cottage feel, add your fence and adorn it with flowers. Inside the fence, you can do anything from a standard green lawn to an extravagant garden for pollinators.
7. Desert Oasis
If you want plants that don't require much effort and look good, go for a desert oasis. Here, you can incorporate sand, cacti, and other drought-resistant plants for a look straight out of the desert.
A desert oasis is also ideal because it incorporates tons of unique straight lines, contrasting with the natural world beyond. It creates a natural transition from the world to the interior of a building, whether residential or commercial.




Parting Thoughts on How to Design Your Front Yard Landscape
Michaelangelo's is regarded as one of the best residential landscape companies in the Alpharetta area, working to improve and create your drought-tolerant front yard landscaping ideas and beyond. We are also one of the best commercial landscape companies, creating lovely front areas for businesses & real estate investors alike.
We will help design your landscape and bring it to life. Once done, we will begin our regular maintenance plan to ensure the landscape stays in quality condition - stretching your investment for as long as possible. Our team has twenty years of practice, and we are ready to put our experience to use in practical ways. We have experience in everything from business landscaping to modern swimming pool landscape designs. Reach out today!